The Edge Malaysia Centurion Club Corporate Award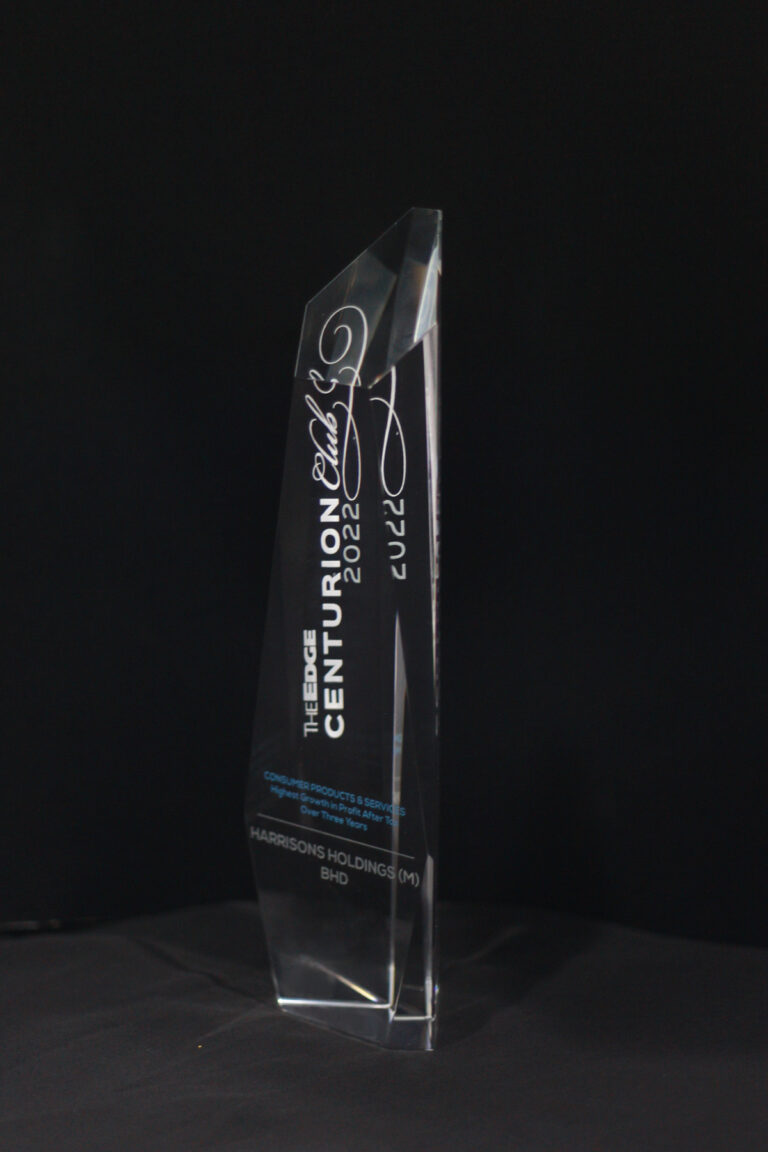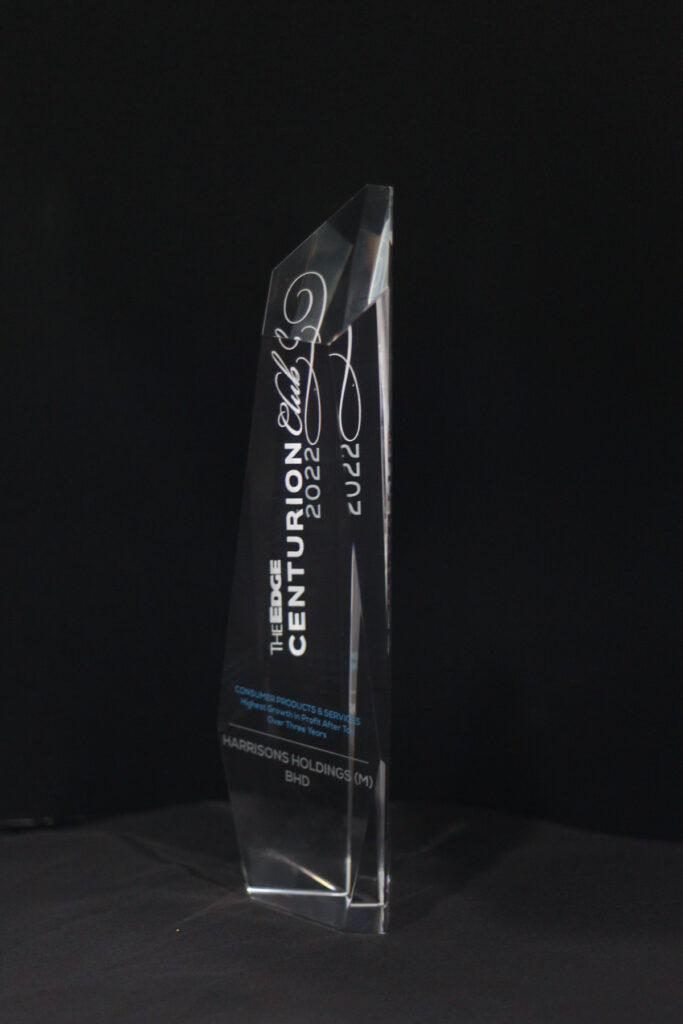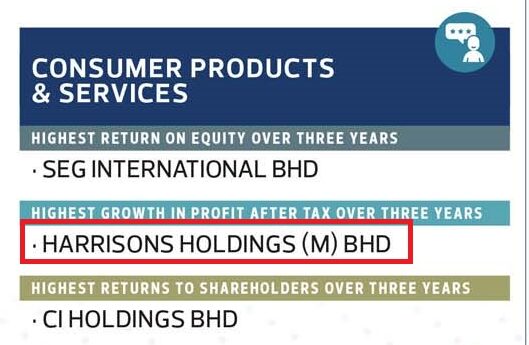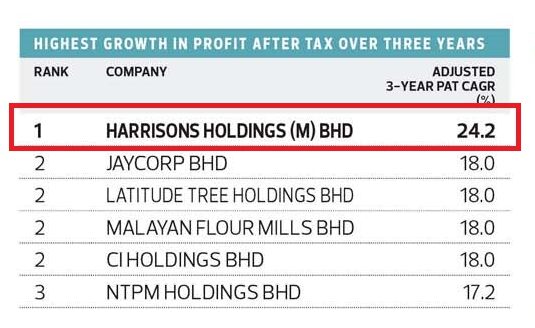 Highest growth in profit after tax over three years
CONSUMER PRODUCTS & SERVICES
Harrisons Holdings (Malaysia) Bhd – Growing steadily in a resilient sector
Tan Choe Choe / The Edge Malaysia
September 26, 2022
Trading and distribution outfit Harrisons Holdings (Malaysia) Bhd, which has close to 85% of its business in the fast-moving consumer goods (FMCG) sector that is resilient to the effects of the pandemic, has been registering steady revenue and gross profit margin growth over the years. This resulted in the group posting net profit growth each year.
The group, which registered its highest top line of RM1.93 billion for its financial year 2021 (FY2021) — up 9.45% from FY2020's RM1.81 billion — saw its profit margin hit 11.22% in FY2021 versus FY2020's 10.94% due to lower cost of sales arising from discounts received from making prompt payments to suppliers. Its gross profit margin stood at 10.71% in FY2019, 10.13% in FY2018 and 9.47% in FY2017.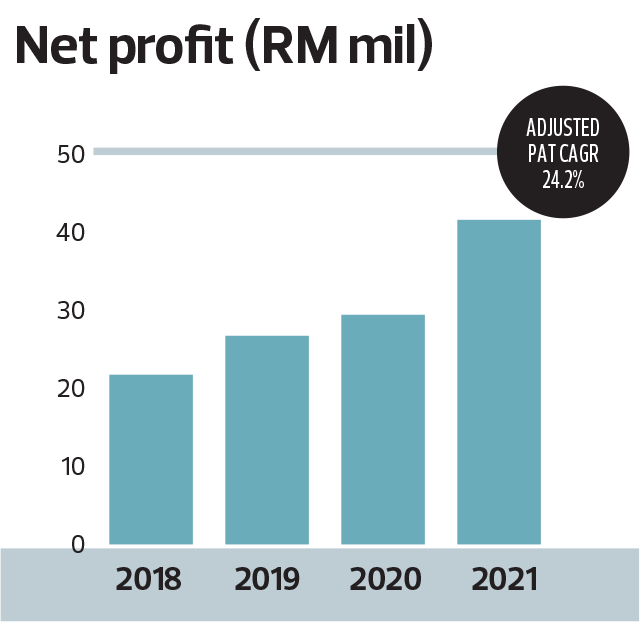 The group's net profit grew from RM21.8 million in FY2018 to RM26.8 million in FY2019, then to RM29.5 million in FY2020, before jumping to RM41.7 million in FY2021. The gains translate into an adjusted compound annual growth rate of 24.2%, making it the winner of the Highest Growth in Profit After Tax Over Three Years in the consumer products and services sector under The Edge Malaysia Centurion Club Corporate Awards 2022.
On top of its steady profit growth, Harrisons has been paying dividends over the years even though it has not adopted any payout policy. As basic earnings per share grew to 60.95 sen in FY2021 from 43.06 sen in FY2020, it declared a final dividend of 30 sen per share for FY2021, as opposed to 20 sen previously.
The group also has a pretty solid balance sheet. Borrowings were halved to RM68.68 million as at Dec 31, 2021, from RM131.03 million at end-FY2020, while deposits, cash and bank balances rose to RM140.79 million from RM125.7 million.
Not surprisingly, Harrison's share price, which dipped to RM2.69 on March 31, 2020 — about two weeks after Malaysia initiated its first movement lockdown to counter the spread of Covid-19 — recovered quickly to RM3.85 a year later, and advanced higher to RM4.99 by March 31 this year, for a market capitalisation of RM341.7 million.
At the time of writing on Sept 13, the stock had climbed to RM6.05, raising its market cap to RM414.36 million, following the release of its unaudited earnings for the first half of FY2022, where net profit jumped to RM30.22 million from RM19.7 million in the same period a year earlier, as revenue grew 14.4% to RM1.12 billion from RM979.4 million.
Based on its bourse filing, the improved earnings were due to an increase in sales volume and selling prices of its key agencies' products in its FMCG business, boosted by higher incentives earned from principals as sales grew and a reduction in interest expense due to lower borrowings. "The opening up of Sabah to tourism and business travelling also contributed to the higher sales. Sales of cement in our building materials division picked up in 2022, as customers increased [their] purchases in anticipation of a price increase from July 1, 2022 onwards," it says.
The group is controlled by Bumi Raya International Holding Co Ltd, with a 42.33% stake as at March 31, 2022. Bumi Raya has its roots in Indonesia and is primarily involved in the trading of consumer, engineering and chemical products, as well as building materials. It is linked to the Bumi Raya Utama Group.
"We expect the sales of our core business of trading and distribution to grow in tandem with the growth of Malaysia's GDP (gross domestic product) for FY2022. The group will continue to improve operating efficiencies through technology upgrades to our economic resource planning systems and to monitor our operational costs in an inflationary environment. We remain optimistic that the overall business for the group will improve for FY2022," says its non-independent, non-executive chairman Pandjijono Adijanto @ Tan Hong Phang in the group's latest annual report.